Meet the Team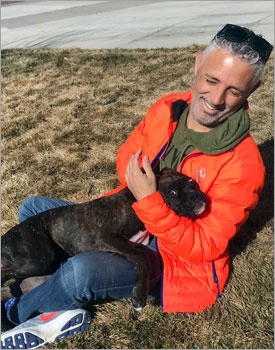 Milton Oliveira
Dog Walker, Petsitter, Sleepovers, General Manager
I grew up in Sao Paulo, Brazil. I attended Anhembi Morumbi University and graduated with a Bachelor's degree in Business Administration and a Master's degree in Economics. Starting as an office boy at Sao Paulo's Public Transportation office, I became the CEO's top advisor for nearly 10 years. Simultaneously, I worked for four years as stage manager at SBT, one of Brazil's major television stations. From there, I took on the role of administration manager for Motorola of Brazil, a job that sent me to Chicago to visit the company's headquarters. It was in Chicago that I realized that I was ready to relocate to the United States. In 2003, I merged my love of animals with my extensive business experience into a pet sitting company in Fort Lauderdale, FL.  My goal is to provide a safe, loving, and fun experience for each animal. I am excited to be part of the team at High Plains Tailblazers. Currently, I have a very sweet and loved Shih Tzu, named Tyler.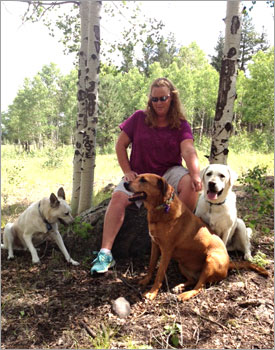 Kira Barnett
Trainer
I grew up in Colorado and California. I have had an assortment of animals in my life. I have had 9 dogs, 8 cats, 4 horses, 1 parrot and assortment of small critters. Right now, I have 2 dogs and 1 cat. If I had the space and the time, I would have several more pets. My love for animals has been with me all my life. When I was in the 5th grade, I was paid to take care of the animals in my neighborhood. I did regular walks and pet sitting. Not until 2004 did I realize that I could make a living this way.
I have volunteered at countless animal shelters and donate money to a couple of local shelters. I am a certified dog trainer. I believe that every dog has the ability to be well mannered. I love my career and am committed to the highest quality of pet care possible.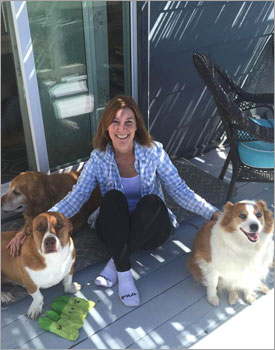 Rachel Marzano
Dogwalker, Website Developer
Originally from the Midwest, I came to Colorado for school and it has been home ever since. I have enjoyed my career in technology but my real passion is for animals. I believe all animals are deserving of love and protection. Over the years, I have cared for dogs, cats, birds and rats. Currently, our family has two dogs, Apple and Suki. I feel very fortunate to be able to work in a field that is close to my heart. I treat each animal as if it was my own.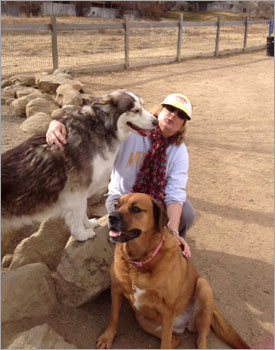 Kathleen Curtis
Dogwalker, Petsitter, Sleepovers
I am a Colorado native, have an associates in science, and worked in both the medical field and the petfood industry. I grew up with cats, dogs, parakeets and fish. Pets have always been such a love of mine; my family said that I should have been a veterinarian! I currently share my home with cats, fish, and parakeets, all rescued. One of my cats has both an autoimmune disease and diabetes. These health needs require administering shots and pills, and a special diet. I also take care of many outdoor cats by providing food and shelter.
I have been called the "crazy cat lady" because of my love for them. Coincidentally, I share my birthday with the patron saint of animals, Saint Francis of Assisi. I would love to share my home with dogs but just don't have enough room! Walking dogs, playing with cats, and spending quality time with all of our clients pets brings me such joy!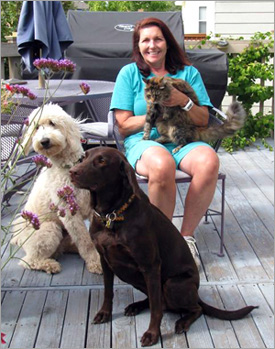 Isabel Chamberlin
Dogwalker, Petsitter, Boarding in home
I grew up in,  Miami, FL with lots of pets. We had fish, hamsters, a parakeet, dogs and cats and some unusual pets like flying squirrels and 2 quail that I hatched from eggs. I also helped my neighbors take care of their horse since I could never quite convince my parents to get me the horse I dreamed about. I was always animal crazy and horse obsessed. I have been in Colorado for over 30 years now and currently have 2 dogs and a cat. Both our dogs have earned their Canine Good Citizen certification. I was born on Christmas Day, which some say gives me the ability to communicate with animals. I know this is just a superstition but I like to believe it is true!
I recently left a career in corporate sales to improve my work/life balance and work in a field that combines my love of animals and fitness. I feel very lucky to have found Tailblazers and be able to combine my 2 passions. I look forward every day to a life surrounded by pets that are loved by their guardians. I look forward to meeting your pets and making sure they are happy and healthy while you are on vacation or at work.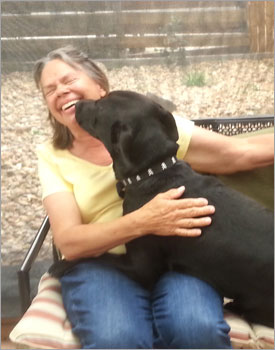 Mary Dent
Dogwalker, Petsitter
I was born and raised on a farm in Michigan where we had lots of dogs and cats. My Dad was a pheasant hunter and we had a Labrador retriever named Sport. How I would love to go hunting with Sport! All my life, wherever I lived, I would "adopt" my neighbors dogs and take them on walks and care for them whenever they were on vacation. When our kids were growing up we had a Welsh Corgi who loved going to school and walking them home. I worked for the Aurora Public Schools for about 18 years as a teacher aide and retired from that in 2008. In 2008 I got a job at DIA Airport on concourse B as a wheelchair agent. My favorite job there was being an escort to the service dogs and pet dogs that came off the airplane and taking them to the Pet Relief Area near the Terminal. I met many wonderful dogs doing that! It is so amazing to observe the dog's loyalty and companionship to his owner. Their love is awesome. It is an honor and a privilege to work for High Plains Tailblazers. How blessed I am to care for and have fun with your pets! A dog is truly man's best friend!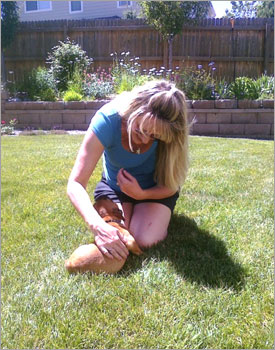 Susie LoSasso
Dogwalker, Petsitter
I am a native of Colorado and I have lived in Aurora since I was 5. I have owned and cared for numerous animals including dogs, gerbils, turtles, fish, mice, crabs and an occasional wild raccoon. I have always had a passion and love for all animals. I am always finding lost dogs and doing my best to find their homes. I am a member of several pet sitter organizations and donate regularly to the Denver Dumb Friends League. I worked for the Department of Defense for 29 years and took an early retirement due to my position being moved to Indiana.
I feel very fortunate to work for High Plains Tailblazers. They provide the very best care for your pets. My job just makes me smile every day!